Description
100% Blackout travel blind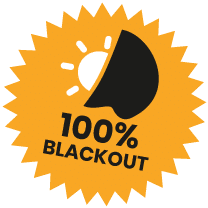 Off on your holidays? Guarantee a good night's sleep when you're away from home with our great value temporary blackout solution – the Blackout travel blind.
Ideal for use both at home and away, our portable Blackout travel blind creates total darkness whenever you need it – in just minutes – and incorporates our market-leading 100% Blackout fabric.
Complete darkness is the key to a great night's sleep – for the whole family – but when you book accommodation you can't guarantee the room will be dark enough.
Very simple to use, this quick-fix window blackout solution is lightweight, durable and ideal for travellers looking to quickly and easily blackout a hotel room or holiday apartment window. It's also a great value, budget blackout option for nurseries and children's rooms at home, as well as shift workers and light sleepers searching for a quick, easy solution to the need for a completely dark sleep space as well as privacy.
With next day delivery available on the majority of UK orders, peace of mind and better rest is just 24 hours away. Remember: you're not buying a blind – you're buying a good night's sleep!










About our 100% Blackout travel blind:
It's made from our innovative, proprietary 100% blackout fabric.
Ideal for use at home and away
Our portable blackout blind creates total darkness, privacy and shade whenever you need it
Fitted in minutes
Quick and easy to use with strong suction cups to attach to the window glass, and/or self-adhesive attachments for the frame
2 colours
1 size: adapts easily to fit any window up to a maximum of 130 x 198 cm
Clever re-sizing system: can be reduced to around a third of its maximum size
Comes with a handy travel bag and weighs just 200g
Simply add extra blinds for bigger windows
Folds away easily between uses